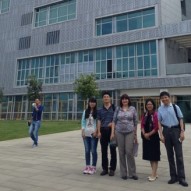 05. – 12.06.2016.
U okviru bilateralnog hrvatsko kineskog projekta "Internet of Things (IoT) based intelligent optimization of control technologies for food cold chain logistics (IPOC)", četiri istraživača s ustanove China Agricultural University u Pekingu posjetila su Hrvatsku.
U sklopu posjeta održana je radionica na Agronomskom fakultetu u Zagrebu na kojoj su sudjelovale članice tima prof. dr. sc. Maja Matetić, kao voditelj projekta i Sabina Šišović, koja je održala prezentaciju o istraživačkim projektima i dosadašnjim rezultatima. Na radionici su prezentacije održali i partneri na bilateralnom projektu, kolege s Agronomskog fakulteta te gosti iz Pekinga.
Gosti iz Kine su za vrijeme posjeta Hrvatskoj imali prilike posjetiti i Odjel za informatiku te obići Sveučilišni kampus u Rijeci, a u sklopu suradnje s Agronomskim fakultetom, obići eko plantaže haskapa u okolici Zagreba s kojima Agronomski fakultet surađuje, dok su u slobodno vrijeme posjetili i neke obližnje hrvatske znamenitosti.
Read More