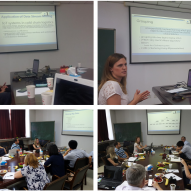 Posjet kineskim kolegama u Pekingu (Projekt IPOC)
16. – 24.06.2017.
U okviru bilateralnog hrvatsko kineskog projekta "Internet of Things (IoT) based intelligent optimization of control technologies for food cold chain logistics (IPOC)",  članice projekta doc. Marija Brkić Bakarić i Sabina Šišović su posjetile kolege s ustanove China Agricultural University u Pekingu.
U posjeti su sudjelovali i prof. dr. sc. Tomislav Jemrić i doc. dr. sc. Goran Fruk iz zagrebačkog Agronomskog fakulteta.
U sklopu posjeta održana je radionica na kojoj su članice projekta održale zajedničko izlaganje pod nazivom "Data stream mining with application in IoT systems for supporting cold chain logistics".
Održane su radionice i razgled na još dvjema ustanovama:
Beijing Yunong high-quality farm products planting company
National research center for agroproduct preservation technology Tianjin